It's trade season. We had our first big deal as the deadline approaches with the Clippers and Pistons agreeing on a deal to trade Blake Griffin, Willie Reed and Brice Johnson for Tobias Harris, Avery Bradley, Boban Marjanovic, a first-round and a second-round draft pick on Monday.
The big-picture side of this is that the Clippers are going to be blowing it up, and they should also get that draft pick in June with it only having top-four protection — the Pistons pick only has a 2.2 percent chance to stay in Detroit as of Monday evening. Adrian Wojnarowski also adds that the Clippers are going to be pursuing deals of Lou Williams and DeAndre Jordan for "packages of young players and picks" as we approach the Feb. 8 trade deadline.
For the Pistons, they are basically betting on Blake Griffin to be a superstar even though he's struggled to stay healthy and he'll be turning 29 in March, so he's basically just past his prime. By year, he'll be paid $31.8 million in 2018-19, $34.2 million for 2019-20 and $36.6 million in 2020-21, and he'll have a player option of $39.0 million in 2021-22. That is a lot of money for a guy who will be 32 on that player option.
OK, let's go with the fantasy breakdown and start with the centerpiece of the deal. By the way, Blake did chime in on Twitter:
— Blake Griffin (@blakegriffin32) January 30, 2018
The NBA is the best.
The short version for a breakdown on Griffin is that he will be fine once he finds his rhythm. The biggest factor here is that he needs to stay healthy, but at least you don't have to worry about a shutdown as much. It's basically a wash on rebounding and you could say the same for scoring. His assists may take a minor hit, but maybe he buries more threes, too.
The longer version on Blake is there's going to be an adjustment period. Coach Stan Van Gundy and coach Doc Rivers run a lot of different stuff, so Griffin will have a lot to learn. If you're into play types, here's a look at some of the differences for the Clippers and Pistons (via Synergy):
Pistons: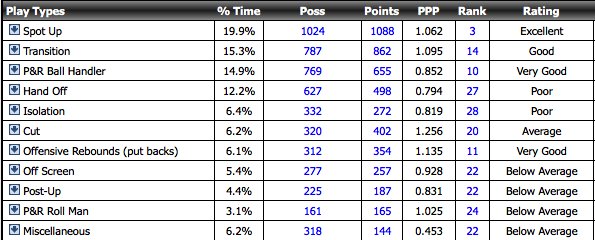 Clippers: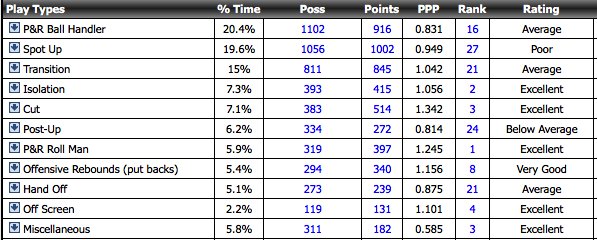 Sure, some of this is based off personnel, but the Clippers having so many pick-and-roll ball-handler plays is noteworthy. Usually, the Pistons are high in PNR, and you would think Blake going through would up their PNR roll-man plays, too. SVG should actually run more DHO plays and make Blake as much of a playmaker, especially with Reggie Jackson on the shelf.
As alluded to, Blake's usage rate should be fine regardless. Even when he played next to Lou, he actually had a higher usage rate at 29.8 compared to 28.8 without Williams. Expect him to stay near 30 overall on his usage rate — he's at 29.6. He's one of a handful of superstars who get theirs regardless.
Again, Blake should eventually be a top-30 player once he starts humming, and assuming he makes free throws. He also gets one more game with the Pistons, but that doesn't really matter much.
Editor's Note: Looking for an edge in your fantasy leagues? The NBA Season Pass provides weekly projections, rankings, the popular Pickups of the Day column, exclusive columns and customizable stat options. It's the extra tool that can take your fantasy basketball teams to the next level.
If you care about the post-break schedule for games per week, here's what it looks like for each:
LAC: 4-3-4-4-4-5 (1.5 weeks for final week)
DET: 4-3-3-4-4-5
So it's only one fewer game for the Pistons, but the semifinal and finals are all the same — possibly quarters if you count that week, too.
OK, so let's run through the rest of the Pistons:
Andre Drummond is very interesting here. He's really grown as a passer this year with 4.2 dimes per game in January. Griffin is unassisted on his buckets a fairly-high amount for a PF at 54.1 percent. Compare that to 38.1 percent for Tobias and just 22.7 percent for Bradley. His defensive stats should still be very similar based on how DJ performed with 1.1 blocks per 36 with BG and 1.0 without him. Although, DJ did have 3.8 more boards per 36 without Blake, but keep in mind the Clippers have been gutted. Plus, Blake doesn't really dime on big-big plays with only 0.8 assists per game to DJ and no other big higher than Reed's 0.2.
There's no doubt that Drummond's ceiling is capped here because of Griffin's usage rate being 6.5 percent higher than Tobias', and whoever replaces Bradley should not take possessions anyway. By the way, Drummond had a whopping 102 assists to Tobias and Bradley, which is 58 percent of his total. That's a bad sign and again it'll be really tough for him to establish a rapport with Blake. In due time, though. He should still be a monster, but he does take a hit and I'd bump him down about 10 spots if we were drafting today.
For the point guards, Ish Smith and Reggie Jackson should be taking a small hit with BG sucking up so much usage, and running the offense more. 
With Bradley gone and the Pistons not getting any wings back, that means it'll be a collective effort to pick up Bradley's 31.7 minutes per game. Luckily for us, we got a good idea what that will look like based on Bradley not playing on Saturday.
It basically comes down to Reggie Bullock, Luke Kennard and Stanley Johnson. Also on Saturday, Johnson was a disaster on defense with Paul George taking him to school, and SVG kept coaching him up throughout the loss. It was a little surprising they now trust him to play every night because he has not improved this season. Now that the Pistons are going to be going for it, Johnson should be on a shorter leash, and don't forget the Pistons may not be done yet either. 
Fantasy wise, SJ has been a major letdown and it's not like he'll be getting many shots with Blake in town. Johnson is decent in steals at 1.2 per game in 26.9 minutes, but everywhere else he's not really going to help you. If you want to add him, you're basically banking on him pulling off a magical improvement. I'd only drop dead weight for him.
Kennard has started to show some flashes this month, averaging 8.4 points, 3.4 boards, 1.5 assists, 0.6 steals and 1.2 treys in just 21.6 minutes per game in January. Even if you extrapolate that to say 29 minutes, you're still not going to get enough to make him an add. I'd prefer guys like Darius Miller.
The biggest wing winner here has to be Reggie Bullock. Both Johnson and Kennard have really struggled on both sides of the ball while Bullock is having a career year in more ways than one. He's probably going to sniff 36 minutes and he has already played 30.4 per game over his last 14. If you wanted to turn his numbers over those 14 and to extrapolate them to 36, you'd get 13.8 points, 3.0 boards, 2.0 assists, 0.8 steals and 3.0 treys on 53.0 percent from the field and 83.3 percent from the line. If you want immediate dividends, he's the guy I'd add from this trade today.
Eric Moreland and Anthony Tolliver don't change too much here. Although, Tolliver gains some deep handcuff appeal because Tobias is extremely durable and Blake is not. Although, we'd probably see some Henry Ellenson in that instance. Expect Reed to push Moreland, too.
Moving to the Clippers, they basically get an incomplete here because more moves are on the way. In other words, we don't want to spend too much time on this because this team will look different in 10 days. But hey, we can still talk about what changed today.
Tobias Harris was in an excellent system for his skill set, so he does take a small hit to his floor -- he's about as steady as it gets for non-star forwards. As mentioned, he played really well off Drummond, so he'll have to find other ways to score. His upside is certainly higher, so it's possible we see more big stat lines. In like a month, expect Tobias to be sniffing top-40 value.
This has to be a good move for Avery Bradley. The Pistons hand-off plays have really held him back this year, and now he can go back to more spot-up stuff. Basically, the change of scenery alone is a nice boost for a player most people have been cutting lately. Although, he certainly could be traded again because he's on an expiring deal. If he's out there on your wire, I'd add him and hope he finds himself.
FREED BOBAN! He still has some work to do, but he should be able to find minutes in the short term. We all know Boban Marjanovic needs just 18 minutes to be valuable in 12-team leagues, so he should get that chance. Plus, it could be jackpot time if DJ is dealt. I would add him in every single fantasy league right now. Playing with Milos Teodosic is going to be must-see TV.
Lou Williams takes a massive hit here and I'd call him the biggest loser by a mile. He was in the catbird seat on this team, and now he'll almost certainly be going to another team, which will destroy his ceiling. He was basically a first-round guy these days, but that will not happen on another team.
DeAndre Jordan probably won't see his value change wherever he goes. He'll get his minutes and he's a low-usage offensive player, so he'll be in the same neighborhood on almost any team. 
Danilo Gallinari does take a minor hit here because he's a bigger shutdown risk, and maybe he's traded, too. He'll have some better upside. The Clippers will trade him for free basically. Negative even.
All of our G League Clippers take a massive hit here. Tyrone Wallace has been dynamic this year, but now he's going to have to fight with Bradley, Austin Rivers, Tobias and Gallinari. He'll be a drop candidate in the very near future. He's an NBA player, though. The same thing above goes for Wes Johnson, too.
Austin Rivers could potentially be a big winner here. It doesn't sound like the Clippers would deal him, so he could be close to 20 per game once he's back healthy.
This is a small win for Milos Teodosic, who may also get to play more with his Serbian buddy, Boban Marjanovic. Oh baby.
Montrezl Harrell is a winner here because he now plays two positions and he could get even more run once DJ is dealt. I would add Boban for is upside, but Harrell should be productive.
Happy trade season!