It's daylight savings time later this month, but right now it's Lillard savings time. The Blazers are one of the hottest teams in basketball with their seven-game winning streak, including Monday's comeback win over the Lakers at Staples Center. Damian Lillard has arguably been the NBA's best player in the last eight games, averaging 33.4 points, 4.3 boards, 5.8 assists, 1.0 steals and 3.4 treys on a 33.8 usage rate and a 61.7 true shooting percentage (TS%). OK, maybe that's a tough argument to win with how Anthony Davis is playing, but Dame has been incredible, especially when the game is on the line.
Lillard time has been basically the whole second half with his recent outburst on Monday as the highlight, scoring 19 points in the fourth quarter with 15 straight points in that stretch. In his last eight halves, Lillard has averaged 19.0 points in that 20.3 minutes. His fourth quarters have been especially superb with a 72.6 TS% on a 36.7 usage rate. More impressively, he's been unassisted on 80 percent of his makes over these fourth quarters. Here's what his shot chart looks like in these eight fourths.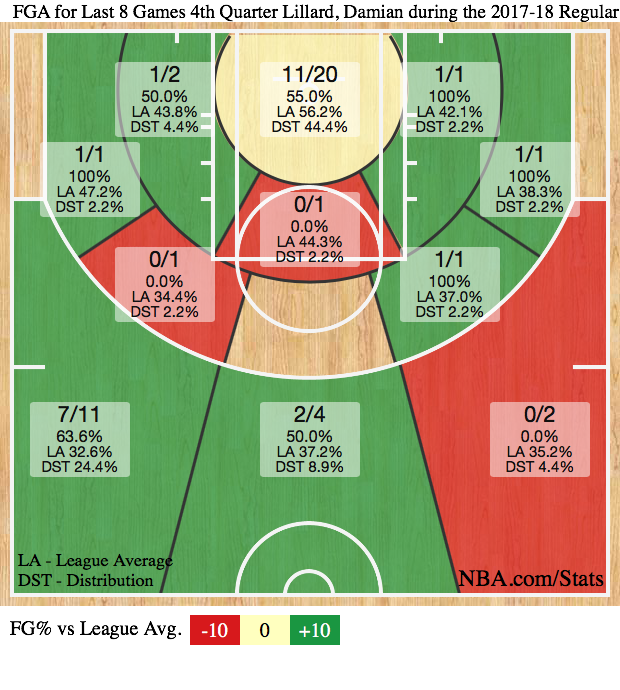 Holy left wing. He's posted a 70.7 effective field goal percentage (eFG%) on his 29 jumpers in this stretch, and he's also played just 8.4 minutes per fourth over this hot stretch, so he's scoring over a point per minute.
Editor's Note: With over 15,000 reviews, DRAFT is the highest rated fantasy sports app. For a limited time, DRAFT is giving Rotoworld readers a FREE entry into a real money draft and a Money-Back Guarantee up to $100! Here's the link.
Being clutch is nothing new for Dame and he's been one of the most clutch players this season. In fact, Dame and Stephen Curry are the only two players in the NBA with at least a 33.0 usage rate and a 65.0 TS% in the clutch this season (minimum two minutes of clutch time; clutch time is the last five minutes of a game with 0-5 point differential). Lillard also has a +8.9 net rating over his 32 games in the clutch with a grand total of 126 minutes.
Last year after the break, Dame was second in the league for points per game with his 29.7 (Russell Westbrook 32.8), and he did so on a tidy 61.4 TS% and a 32.8 usage rate. Overall on this eight-game streak, he's posted a 33.8 usage rate and a 61.7 TS%, so there are some similarities there. He looks like he's headed for another monster finish and will likely be on a lot of championship fantasy hoops rosters.
Ball's Up 
Remember when we were all piling on Lonzo Ball and how he was hanging in the 30s for TS%? Well, he's snapped out of it and he's actually had a positive impact on scoring. Since Dec. 1, Ball has a 55.3 TS%, which is better than Russell Westbrook's 52.1 TS% in that span. Ball's jumper has actually been a big part of it with a 57.6 eFG% and none of his 145 attempts have been blocked either. He's also had a lot of help from his teammates because he's been assisted on 57.5 percent of his makes.
The biggest impact Ball has made so far has been on the defensive side. According to Synergy, Ball comes in as an 84th percentile defender. Here's a breakdown of how he defends based on play type, via Synergy.

That's pretty good stuff from a rookie, especially in PNR and even defending spot-up plays. Plus, the Lakers are also first in pace, so that's even more impressive to be 84th percentile overall.
The Lakers shockingly rank fourth in the NBA for net rating since the break (Warriors, Rockets, Celtics). They've been second in rebounding percentage (Jazz) and they're basically playing without a small forward right now. Ball's defensive versatility has really helped them there, too.
One interesting wrinkle in the rotation has been Ball playing next to Isaiah Thomas. They've played together for 86 minutes so far with a solid +9.3 net rating over those five games. Ball's minutes have been pretty effective as a stat producer, too. Per 36 minutes, Ball has 12.2 points, 8.4 boards, 8.0 dimes, 2.9 steals and 3.4 treys on a pristine 70.3 TS% in his time with IT.
Fantasy wise, Ball looks like he's locked in as a top-50 player for the foreseeable future. He is shaping up to be a third-round target in standard leagues next year.
In the Clutch
While I was digging up some of these clutch numbers, there were a few things I thought were interesting. Let's just do a quick-hit stat dig in clutch land.
Jrue Holiday leads all players in clutch minutes with a whopping 184 minutes. The homie Josh Richardson is second with 148. Richardson is also +50 in +/- in that span while Holiday is +42.
LeBron James leads all players in clutch scoring with 152 points, and Kyrie Irving is second at 142. LeBron also leads all players in clutch usage rate at 47.6 (minimum of two clutch minutes).
Russell Westbrook is third in the NBA for total clutch scoring at 127 points, but he's -28 in +/-. Him, Jimmy Butler (-9) and Kemba Walker (-8) are the only top-10 clutch scorers in the minus.
Tristan Thompson hasn't score at all in the clutch this season in his 19 minutes. Vince Carter also hasn't scored in the clutch this season over 25 minutes. 
Julius Randle leads all players with clutch fouls at 28 in 108 minutes. That's 12.4 fouls per 48 minutes!
Wesley Matthews has an NBA-worst -97 in +/- over his 132 minutes. Harrison Barnes is just behind him at -95. Someone get the Mavs a hotdog. 
Changing gears off the clutch (get it???), here are the top lineups of 2018 with at least 50 minutes.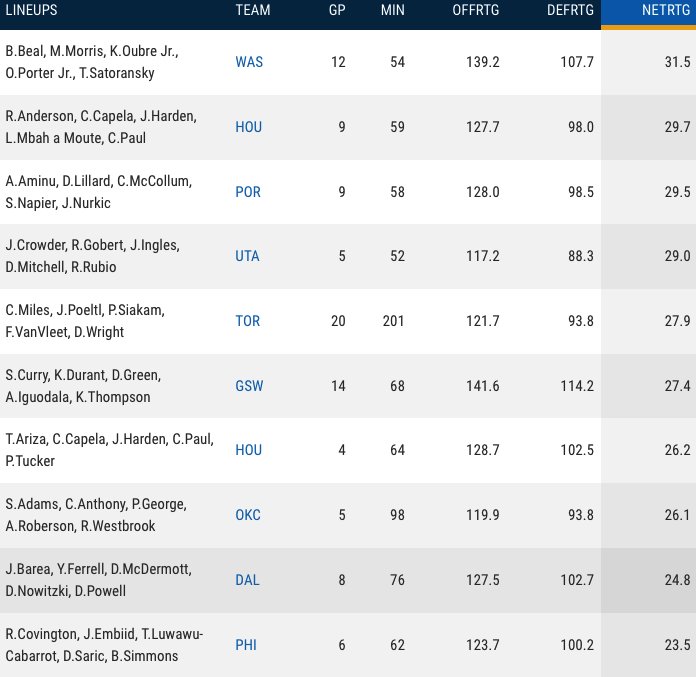 Some fun things on here. First off, everybody eats with Tomas Satoransky out there. Coach Scott Brooks called his recent turnover issues "unselfish" and the Wizards continue to play well. The Raptors bench is awesome and it's going to be really tough for coach Dwane Casey to shorten his rotation in the playoffs. It's a little surprising that coach Terry Stotts doesn't play Shabazz Napier more, especially with Moe Harkless dinged up. Jae Crowder has really found his game again with the Jazz. It's nice to play next to Rudy Gobert.
Oh hey the Hampton Five has been pretty solid, too. Coach Steve Kerr seems to be going to it more, which may have something to do with how he's lost faith in his centers.
So who is bad? Here are the worst lineups of 2018 with at least 50 minutes.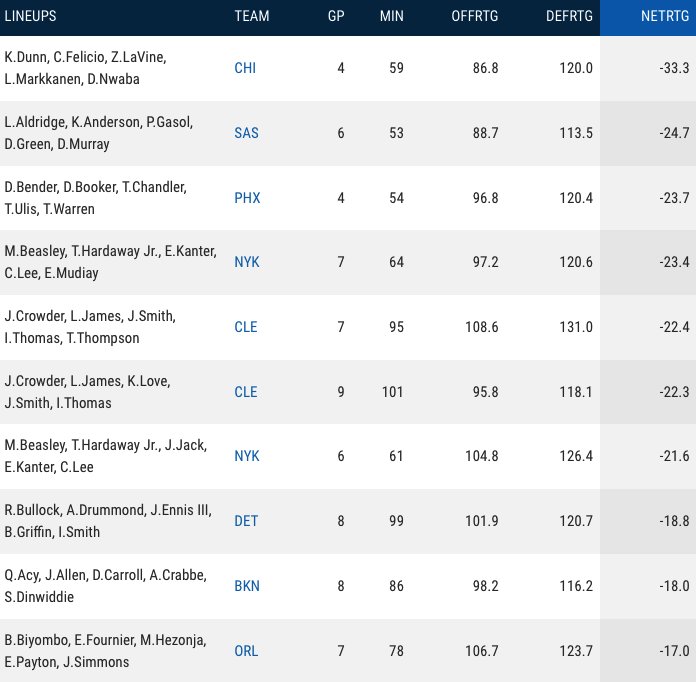 That's some impressive losing from the Bulls. They're surprisingly in the No. 8 spot for the lottery, but chances are they'll be moving up. It's quite a tank race right now. The Spurs have been horrible lately and it starts with their first unit. Coach Gregg Popovich is still trying to figure out what to do with his rotation and squeaking by the Grizzlies 100-98 on Monday isn't exactly saying they're OK right now. 
The Pistons new starting lineup has been awful. Ish Smith has lost some minutes to Dwight Buycks and Blake Griffin has struggled to score consistently. It's certainly possible that the Pistons will have to give up a top-10 pick from the Griffin deal.