Sports teams these days aren't exactly using a one-size-fits-all approach to putting their teams together. Baseball teams will put on a shift against certain hitters, NFL teams will use multiple tight ends or multiple tailbacks on a play, and NBA teams are going away from the typical lineup of a point guard, shooting guard, small forward, power forward and center.
Even before the Warriors' death lineup made this concept en vogue, the league has really shifted to maximizing positional flexibility. The amount of outside-the-box thinking when it comes to lineup combos these days is dominating how we research fantasy hoops. Last night, we saw the Nuggets use a two-PG, two-C lineup against the Blazers, and we saw the Suns use a no-PG lineup down the stretch against the Lakers. Those two teams have really been open to mixing it up this season.
The Suns have also tweaked their starting lineup with Tyler Ulis taking over and Mike James moving to the bench. It was a fairly bold move for coach Jay Triano, especially because that lineup with James has a +3.9 net rating this season. The combination of Ulis, Devin Booker, T.J. Warren, Josh Jackson, Marquese Chriss and Tyson Chandler was only used for 12 minutes before this weekend, but Triano used it for 32 minutes in the last two games. It was a successful run with a +27.5 net rating, but Ulis did not get minutes down the stretch with Josh Jackson and Mike James getting run in the fourth on Monday. In other words, Ulis didn't really help and it was more about the stronger play of the other four starters.
Today, Triano hinted that Booker could get more run at the point because he is playing well and the other point guards are not playing their best. "I think a little bit of both," Triano said about the reasoning of putting Booker at the point. For what it's worth, that combo with Booker at the one worked in three minutes with a +12.1 net rating, but of course that's not much of a sample.
So, if that lineup goes get thrown in there for let's say 3.0 minutes per game, that'll help Josh Jackson and hurt the point guards.  Ulis may have some upside for steals and dimes, but he's really struggling and is a tough stash in fantasy because he needs a lot of volume to overcome the subpar shooting and lack of treys. James could still have some value off the bench and he gets to take a lot of shots when he's not next to Booker and Warren.
So Josh Jackson may benefit from this, right? Well, he is really, really cold. In the last two games, he's scored just eight points and he's used 30 possessions. That's just 0.27 points per possession, but the Suns are likely just going to let him have his growing pains. He has been unassisted on 60.4 percent of his makes this season and he's really struggled around the rim at just 50.9 percent from within three feet — league average is 62.3. If he's going to get better, he'll have to use his teammates more often because scoring in the NBA isn't easy.
Lastly on the Suns, Devin Booker looks legit with career highs almost everywhere. He's on pace for career highs of 23.2 points, 4.8 boards, 3.9 assists, 2.3 treys, 45.5 percent from the field, 88.6 percent from the line, and 37.4 percent from deep. He just turned 21 two weeks ago and his upside in a few years is scary.
Editor's Note: Looking for an edge in your fantasy leagues? The NBA Season Pass provides weekly projections, rankings, the popular Pickups of the Day column, exclusive columns and customizable stat options. It's the extra tool that can take your fantasy basketball teams to the next level.
Another team out west that has gone no PG more than most teams is the Nuggets. On the year, Will Barton has played 21 minutes at point guard with most of that time next to starters. The main lineup of Barton, Gary Harris, Wilson Chandler, Paul Millsap and Nikola Jokic has a +14.5 net rating in 15 minutes on the year. It was also only used it four games, so coach Mike Malone hasn't leaned on it very often.
In case you missed it a couple weekends ago, Malone said he wanted to go with a hot-hand approach to close at point guard with Barton, Emmanuel Mudiay and Jamal Murray. He did say he wanted Murray to be the closer, and Murray has sort of been better after a really rough week before his career-high 32 points on Saturday. While it's obviously great to see Murray start to turn the corner again, Gary Harris (shoulder) not playing in the last two has helped Murray because Barton has to soak up the SG minutes as the starter.
Emmanuel Mudiay has also cooled off, so Murray should be in the clear to keep his minutes closer to 30 again. Barton looks like he's in for another big year, as well.
Sometimes teams have to go no PG out of necessity. That's what happened to the Nets on Saturday with their lineup of Caris LeVert, Allen Crabbe, Joe Harris, DeMarre Carroll and Rondae Hollis-Jefferson for three minutes in the fourth quarter. D'Angelo Russell is going to miss several games, so we'll probably see more of this. LeVert did play some point guard last year, so it's certainly on the table even under normal circumstances. 
Of course, the primary beneficiary of Russell going down is Spencer Dinwiddie. He did not play on Saturday because of a hamstring issue, but he should be all set for Tuesday against the Celtics. Coach Kenny Atkinson said before DAR's injury that he wanted to play Dinwiddie at the point and Russell at the two, so he clearly has a lot of confidence in Dinwiddie already. Atkinson also said that move would have to do with Isaiah Whitehead stepping up. With Dinwiddie out on Saturday, Whitehead played 13 minutes against the Jazz with eight points, two rebounds, one assist and two turnovers. He's not very efficient, but Whitehead could rack up the counting stats in a fantasy-friendly system.
The Nets probably want Whitehead to succeed and may not have to use LeVert at the point. If we had to guess, the PG minutes would probably be about 28 minutes for Dinwiddie, 19 for Whitehead, and maybe a handful of minutes for LeVert. This could change in a hurry if Whitehead can't get it going.
Secondly, the Nets are not only going to have to fill Russell's 28 minutes, they're going to have to find a way to spread his 33.5 usage rate around. Russell also plays at a 111.0 pace and the Nets are third in the NBA for fastest offensive possessions — they're first for fastest defensive possessions — that means his usage rate is more like 36 because of how many possessions the Nets get. Basically, every single Net perimeter player should pick up some extra value, and the same goes for RHJ.
Quick side note: Timofey Mozgov only played 11 minutes, so it may be Jarrett Allen time once he's over his foot injury.
One team that may be going no PG more than any other team is the Jazz. Coach Quin Snyder has been a fan of no-PG lineups and we've seen him run the triple-wing lineup with Alec Burks at the point for years even before George Hill and Ricky Rubio. Plus, the loss of Dante Exum (shoulder) has thinned out their backcourt depth.
This year, it's all about Donovan Mitchell, who is having a terrific November. In his seven games this month, he's averaged 20.0 points, 3.6 boards, 2.3 assists, 1.6 steals, 0.6 blocks and 2.6 treys on 41.3 percent from the field and 81.8 percent from the line. Here's his shot chart in November: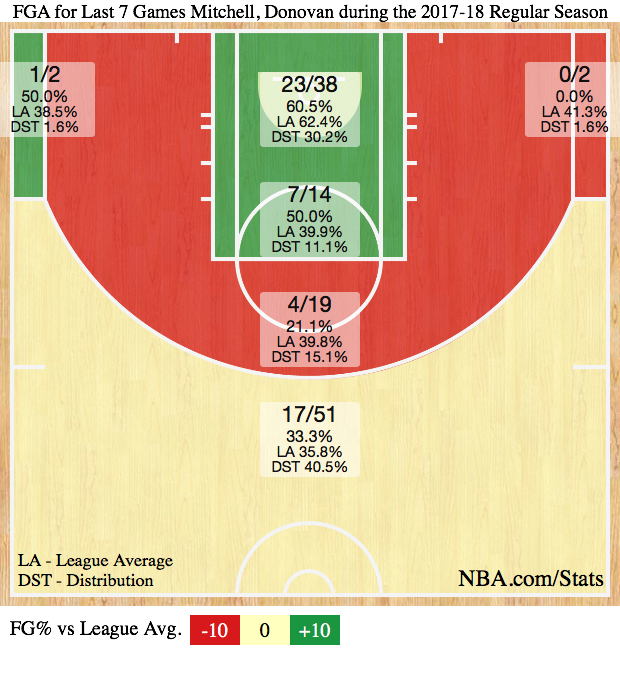 He's making his money in the paint, and finishing at the rim is a big reason why. In October, he only made 47.8 percent at the rim, and he also made just 5-of-15 in the paint on his non-restricted paint shots. His improvement as a scorer has to be part of the reasoning he is playing more.
Another reason we may see the Jazz go with more no-PG lineups is because of Rudy Gobert (knee) going down. Before his injury, he was used in 15 of the 19 most-used lineups, so Snyder is really going to have to change things up. In the last two games, Mitchell was used at point guard for six minutes, and there may be more of that if he keeps playing well. Besides Mitchell getting more opportunity, him sliding over should help out Rodney Hood, Alec Burks, Joe Ingles and Thabo Sefolosha. 
Every year, there's always a time we get concerned about Ricky Rubio. This year, it happens to be earlier with his paltry 37.1 percent from the field on the season. Worse yet, he's been a disaster in November, averaging 11.6 points, 2.7 boards, 3.9 assists, 1.7 steals and 0.6 treys on 30.1 percent from the field in only 28.6 minutes per game. Simply put, he has to play better and he should be viewed as a buy-low option in fantasy.
Some other no-PG teams have been the Magic using Jonathon Simmons, the LeBron James at the point lineup, and of course there's the Blazers using C.J. McCollum at the point. Simmons has played really well and he is probably going to take more minutes from Terrence Ross soon.