On Monday night, we saw Kobe Bryant get his No. 8 and 24 jerseys retired at Staples Center. He's a legend for sticking with one franchise, but he still doesn't hold a candle to some of the others in the GOAT conversation because really Kobe wasn't that efficient in his career, posting a career 55.0 true shooting percentage (TS%) and not even clearing 58.1 TS% in even his most efficient year. Well, another player in the GOAT convo has been on some kind of tear, especially with respect to efficiency.
LeBron James is going to turn 33 years old later this month and you wouldn't know it based on how he's playing in his 15th season. He's on pace for a career high in assists per game with 9.3,  treys per game with 2.0,  field goal percentage and he's matching his best block output with 1.1 per game. He's also on pace for his most efficient season at 65.3 TS%, and this is even his best defensive rebounding season ever with a 21.3 defensive rebounding percentage. His 30.6 usage rate puts him in rare company for players with at least a 65 TS% and a 30 usage rate because the only time someone met those numbers is when Stephen Curry had his unanimous MVP campaign in 2015-16.
Looking at his Synergy numbers, it's kind of wild how King James is basically good on everything.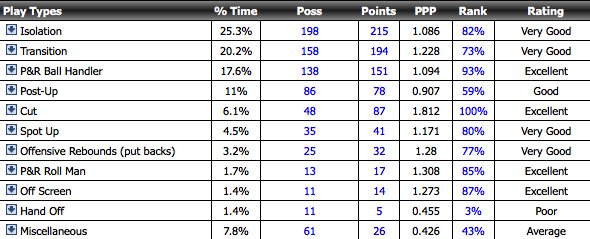 *PPP is points per possession, rank is percentile on efficiency among players with at least 10 possessions
Oh, well except for the 11 handoff possessions. He's one of the best PNR ball handlers in the league and he's basically automatic when he cuts. We've been saying for years that LeBron should run more PNR and once again that's as true as ever.
LeBron has also been remarkable in the fourth, posting a 64.7 TS% and a 39.0 usage rate. There's only one other qualifier with a usage rate greater than 35 and a TS% greater than 60 -- it's Donovan Mitchell (!) with his 35.0 usage rate and 60.8 TS%. If you look at Bron's per-36 stats in just the fourth, you'd get 35.1 points, 11.2 boards, 9.3 assists, 1.5 steals, 2.2 blocks and 2.6 treys. In DFS, that's good for a very nice 69.4 points, so you may have noticed how Bron just cleans up late. By the way, the third quarter is his worst quarter for stats per minute.
So can LeBron really keep this pace up? He's actually trended up in DFS points per game lately thanks to a heavy bump in dimes and a slight bump in boards. Of course, there could be one guy to cut into LeBron's usage rate and that's Isaiah Thomas possibly returning.
Thomas was the King of the Fourth last year to look even better than LeBron's aforementioned usage and efficiency in the fourth. Last season, IT had a 65.0 TS% and a 41.2 usage rate in the fourth, which is why he got MVP attention. Per 36, Thomas put up 41.3 points, 2.7 boards, 5.1 assists, 0.7 steals and 4.0 treys in his 596 fourth-quarter minutes last season — good for 52.2 DFS points. In some degree, Thomas is going to impact the offense.
Editor's Note: Looking for an edge in your fantasy leagues? The NBA Season Pass provides weekly projections, rankings, the popular Pickups of the Day column, exclusive columns and customizable stat options. It's the extra tool that can take your fantasy basketball teams to the next level.
What's wild about LeBron is he really doesn't see much of a usage change when he's with other stars. James' usage rate only drops 1.6 when he's with Kevin Love, and he still had a 27.9 usage rate when he was with Kyrie Irving last season. Plus, part of the reason Bron is so good is because he can fill it up in so many different ways. This was also a pretty cool look at how LeBron gets better every month over his NBA career.
So when do we expect IT to come back? Well, that depends who you ask. ESPN reported he won't return before Christmas, The Vertical said he could be back the first week of January, and IT will tell you something totally different:
Cavs Guard Isaiah Thomas is targeting the first week of April to make his debut, league sources tell IT!

— Isaiah Thomas (@isaiahthomas) December 18, 2017
I guess all you have to say is " league Sources tell...." and your article or whatever is legit lol

— Isaiah Thomas (@isaiahthomas) December 18, 2017
Oh, Pizza Guy. Anyway, he's been doing some on-court work for over a month, and he reportedly did some 4-on-4 work on Dec. 6. He still hasn't done 5-on-5 yet, but it sounds like that's going to happen soon. The Cavs are still being pretty quiet about it and coach Ty Lue even talked about The Vertical report of an early January return. "I don't know where that came from, but I hope so," Lue said.
Fantasy wise, you're obviously stashing IT and hopefully he's up to speed by the All-Star break. His return could slightly hurt Kevin Love or Dwyane Wade, but LeBron has been too good to lose any sort of responsibility with the ball.
In case you missed it this morning, I also covered the Daily Dose to recap Monday night. I had some details on Kyrie being crazy in the clutch, Ben Simmons and not making jumpers and a lot of other stats. Because of so many games, I really couldn't go in depth on one of my favorite topics from Monday.
Josh Richardson is here, you guys! Over his last 11, he's averaged 16.7 points, 3.3 boards, 1.7 dimes, 1.3 steals, 1.0 blocks and 2.5 treys on 54.8 percent from the field and 81.8 percent from the line. That makes him a top-30 player in standard leagues over this decent sample. Like Bron, J-Rich's efficiency is incredible with a 67.8 TS% on only 19.7 usage rate. Where is he crushing in the last 11? Well, everywhere according to his shot chart.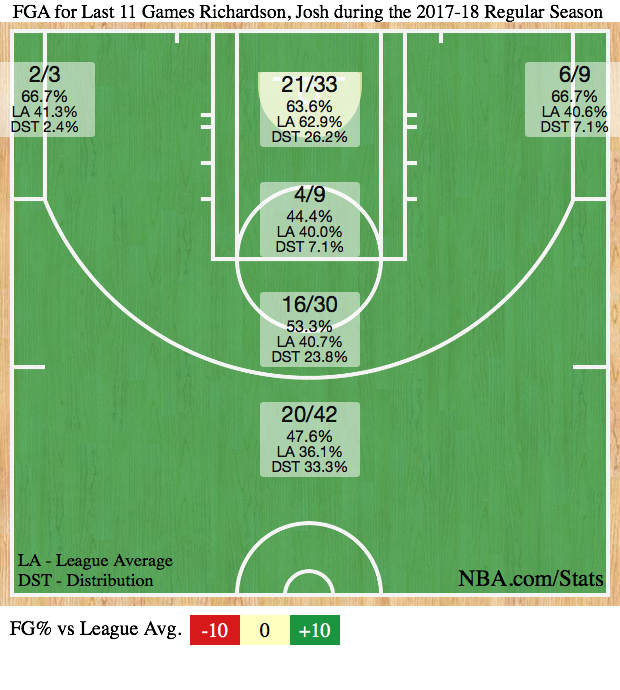 Not bad in the corners with a 100.0 eFG% (effective field goal percentage) and still pretty awesome above the break at 71.4 eFG%. Part of the reason he's been so awesome is because his teammates are helping him out. He was assisted on 100 percent of his 3-pointers and he's been open for 53-of-54 attempts from deep. On the other hand, he's only been assisted on 27.8 percent of his layups over that span, so he's still doing damage on his own — that's down from 46.2 percent before this hot streak.
Obviously the big reason why has been all about his jumper. On all of his jump shot types, he only had a 35.1 eFG% before this hot streak, but that has risen to 66.3 eFG% over his last 11. He's probably going to cool off at least a little, but Richardson should still be a monster on the stat sheet.
Torrey Craig is also crazy these days. Coach Mike Malone has been putting him in tough defensive spots with a ton of possessions against Russell Westbrook last night and he even blocked Jrue Holiday on the last possession over regulation on Friday. Craig was ultra-efficient on Monday night, making all five shots from the field for 14 points, two boards, one assist, one steal, one block and three 3-pointers in 30 minutes.
We've seen coach Mike Malone really praise Craig since the offseason and he was terrific in the G League, averaging 25.2 points, 5.0 boards, 3.5 dimes, 1.1 steals, 2.0 blocks and 2.7 treys. Yeah, G League stats aren't the best indicator, but you have to love those defensive stats.
The Nuggets may have a decision to make in 2018 because it seems like they'd have to convert Craig's two-way deal. Would they be willing to trade someone to open up a roster spot? You'd have to think they could unload Monte Morris, Darrell Arthur or Richard Jefferson somehow.
Fantasy wise, Craig is quickly on the radar in 16-team leagues and his fantasy-friendly game could help him rise to standard value in a hurry. Although, his value would take a big hit once Paul Millsap (wrist) can return, but he's got a long way to go.