After a slow start in 2018, it seemed like the Jazz were about to hit the self-destruct button like they were Lonestar flying in Spaceball One. They lost seven of their first 10 games to start this calendar year, including losses to the Hawks, Knicks and Hornets. There was talk of Derrick Favors and others being dealt at the deadline, and we would've had to worry about possible shutdowns for some of their star players. Now, they're the NBA's hottest team with 10 straight wins, including wins over the Warriors, Raptors, Blazers and the Spurs twice. They've gone to plaid (sorry to those who don't get these Spaceball references).
Before they turned it on, their most-used unit was playing well with a +16.1 even when they went 3-7. The problem was that every other lineup with at least 12 minutes was negative in net rating. These days, it's basically been domination from top to bottom. Here are their 10 most-used lineup combos during this 10-game winning streak: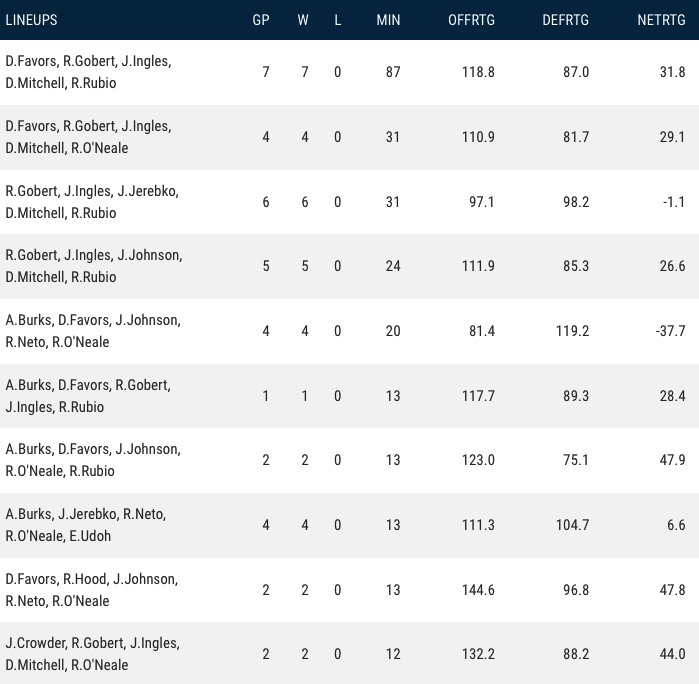 So seven of the 10 lineups have been awesome lately, and their worst lineup won't be used again because Joe Johnson is a Rocket. Furthermore, all of the 12 most-used three-man combos all have a net rating of at least +13.4, including Derrick Favors, Donovan Mitchell and Joe Ingles posting a whopping +30.3 in 144 minutes. Basically, coach Quin Snyder deserves a lot more credit that he's getting for pushing the right buttons all the time, and it's led to a lot of players exceeding expectations. More on that in a bit.
On the whole, the Jazz are among the elite in several categories. Over their last 10, they rank first in defensive rating, first in net rating, sixth in offensive rating and first in total rebounding rating. What could be even better news for the Jazz is they have a really easy schedule coming up.
According to Positive Residual, the Jazz have the fewest remaining road games with just 10 to go. They're also at a rest disadvantage just four times in their remaining 25. Meanwhile, the No. 9 seeded Clippers and the No. 8 Pelicans have an NBA-high 11 rest disadvantage games — the Hornets and Suns have the fewest at three. Better yet, the Jazz only have the eighth-easiest remaining schedule while the only other Western Conference playoff contending team in the top 15 for easiest schedule is the Warriors (via Tankathon). By the way, the Spurs have the hardest schedule, the Clippers have the fourth-toughest schedule, the Blazers are sixth toughest, Denver is seventh and New Orleans is 10th based on opponent winning percentage. 
To sum all this up, there's a very, very good chance the Jazz will be in the playoffs. They're also just 5.5 games out of the No. 3 spot in the Western Conference standings, so it's possible they can even climb into the top four.
Editor's Note: Looking for an edge in your fantasy leagues? The NBA Season Pass provides weekly projections, rankings, the popular Pickups of the Day column, exclusive columns and customizable stat options. It's the extra tool that can take your fantasy basketball teams to the next level.
Getting into the fantasy side of this, it's looking great for the guys in the SLC. Over their last 10, the Jazz have six players turning in at least 10th-round value in nine-category leagues: Joe Ingles is sitting at an unsustainable value of second round, Rudy Gobert is third, Ricky Rubio is fourth, Derrick Favors is fifth, Donovan Mitchell is sixth and Royce O'Neale is 10th. You're obviously counting on those first five in every fantasy league, and expect Mitchell to heat up after he gets out of his mild shooting slump.
That brings us to Royce O'Neale, who shockingly has played 35.5 minutes per game over his last two, including a career-high 38 in the thrilling win over the Spurs on Monday night. Obviously the uptick there comes from Ricky Rubio not playing and O'Neale getting the start. His position flexibility has been huge for him to see minutes with him playing in each of the four most-used lineups over the last two. O'Neale also led the team in net rating with a +26.2 over those two with nobody else really being close (Raul Neto is +17.5). This month, O'Neale has put up some respectable averages with 9.0 points, 6.0 boards, 2.9 assists, 1.0 steals and 1.0 treys on 55.6 percent from the field and 85.7 percent from the line. That raises the question: What happens to Royce when Ricky Rubio comes back?
Well, there should still be minutes there for him. On Monday, we saw Alec Burks played eight minutes, Jonas Jerebko played eight and Ekpe Udoh played two, so that's 18 minutes that could easily go away. Plus, Jae Crowder played 33 minutes, so he can be dialed back to 27 when Rubio comes back. That should mean O'Neale should have a shot to get around 28 minutes, even assuming Rubio can get back to his 29.3 minutes per game.
If he's sitting out on the fantasy waiver wire, I'd definitely consider dropping guys like Marquese Chriss, Taurean Prince or Avery Bradley for him. Like I was saying on the Sunday pod, it's not really stash season anymore. You should be rostering players you can count on today.
Youth is wasted on the young rosters
One thing you do want to keep in mind as a fantasy owner is teams that will be leading to a youth movement. So far, we've seen the Kings say they're already going to play their younger guys more and we saw the Mavs rest their players on Sunday. There have also been a few hints of what's to come from some reports.
The Grizzlies are going to "prioritize development of young bigs," according to official team reporter Michael Wallace. That means we'll see more Ivan Rabb, Deyonta Davis, Jarell Martin and maybe even some Brice Johnson. There's really no need to make a proactive add on these fellows, but just keep it in mind. On the flip side, perhaps we see JaMychal Green and Marc Gasol lose minutes at times, including some rest days. Also, I still can't believe the Grizzlies didn't trade Tyreke Evans. It's 2018. What are you doing?
The Hornets are also headed for some changes. Coach Steve Clifford said he would consider changing up the rotation and play the young guys more (via Rick Bonnell of the Charlotte Observer). Back on Feb. 11, he said the results of the next eight to 10 games would go far in determining whether they stay in playoff pursuit. There's really nobody to stash here, but this could hurt borderline fantasy players like Marvin Williams or maybe even Nicolas Batum.
Coach Jeff Hornacek hinted that Jarrett Jack's minutes are expected to drop, via Ian Begley of ESPN.com. Somewhat surprisingly, Jack started both halves on Monday after playing just five minutes in the first half, and also just eight total minutes in the Sunday loss. Emmanuel Mudiay should trend up and he's playing next to Frank Ntilikina a ton. Mudiay played 34 of his 49 minutes next to Frank Nitti, so those two can co-exist. We'll see if this youth movement moves to the bigs to open up minutes for Luke Kornet aka The UniKornet.
Bulls president John Paxson said he expects to play Cristiano Felicio, Paul Zipser and Cameron Payne more after the break, via K.C. Johnson of the Chicago Tribune. You're not really going to add those guys, but you may want to think about dropping guys like Robin Lopez.
Then there's the Suns. They went next-level tank last year when they rested Tyson Chandler and Eric Bledsoe just cause. This year, it doesn't sound like they will, and Devin Booker had some strong words about it before Monday's game. "I'll never sit a game if I'm able to play," he said, via the Arizona Republic. "I feel like that's bad karma to the basketball gods if you do. If I'm ready I'm going to play." This is good news for Booker, but the Suns will probably take a Nets-like approach and sit guys at 95-99 percent.
We'll be seeing a lot more of this and we're headed for some exciting losing streaks. The Magic get some serious props for pulling out a huge loss in Chicago on Monday. To end it this week, here's a look at the lottery rankings (via Tankathon).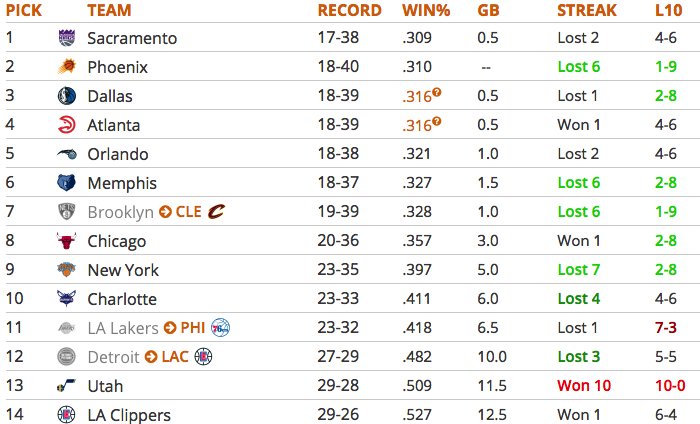 Happy tanking, NBA.