Every year we see players go to new teams and see a change in their stats. Sometimes it's a bad move and others can results in massive increases to make players candidates for Most Improved Player. Victor Oladipo looks to have done both in the last two seasons with a tough 2016-17 in Oklahoma City and now one of the most impressive seasons with the Pacers in 2017-18. 
Sometimes when we see a guy get red hot, we're always expecting him to fall off in a hurry. That hasn't happened with Oladipo as he seems to be getting better each time out. Many people may have expected him to slow down after he had to miss a game on Nov. 25 due to knee soreness. Well, that didn't happen.
In the last seven games since he missed that loss to Boston, Oladipo has averaged 29.1 points, 6.3 boards, 4.7 assists, 2.4 steals, 1.7 blocks and 3.9 treys on a 31.6 usage rate and a 65.9 TS%. Plus, he also had a +12.8 net rating in that time and logged some serious minutes at 36.5 per contest. That's MVP-type stuff.
Fantasy owners and traditional NBA fans alike have noticed VO's impact in the fantasy rankings and in the NBA standings. His career-high 47-point effort against the Nuggets on Sunday boosted him to be a top-10 player in nine-category leagues as his Pacers won their fourth straight to pull into a virtual tie with the Bucks for the fourth best record in the Eastern Conference, trailing the Cavs by just three games for the No. 2 seed. In that four-game streak, the Pacers starting unit boasted a 123.1 offensive rating in 52 minutes together in three games and the one game without Darren Collison that until still had a 118.1 offensive rating in 28 total minutes. They're clearly winning games with offense.
This offensive output is mostly about Oladipo and many people may have thought he didn't even have this in him on his best day. Going back to last year, people piled on Oladipo for not being able to be second fiddle to Russell Westbrook's one-man band. In those 67 games with OKC, Dipo had just a 21.3 usage rate, which ranked 130th among all NBA players. This year, his usage rate has launched all the way to 31.0, which is higher than MVP candidates LeBron James and Kyrie Irving.
Sometimes when a guy gets that kind of usage bump, it results in a dip in efficiency. After posting a mediocre 53.4 TS% last year, Oladipo's true shooting percentage is sitting pretty at 59.7 on the year with a sharp upward trend lately. To put those numbers in perspective, there are only a handful of players in NBA history to finish a season with at least a 60 TS% and a 30 usage rate as a scoring qualifier: Larry Bird, Stephen Curry, Kevin Durant, James Harden, LeBron James, Michael Jordan, Kawhi Leonard, Karl Malone, Shaquille O'Neal and Isaiah Thomas. That's it.
Yeah, we can talk about how Oladipo's assists are back up to where they were in his Orlando days at 4.0 this year, but the increase in efficiency deserves a little investigation. We're going to take a detailed look at his underwhelming 2016-17 season and his Most Improved Player campaign in 2017-18.
Editor's Note: FanDuel is hosting their Super Duel for a Difference contest this Sunday, where you can win tickets to the Big Game in Minneapolis! Support a good cause and compete for an unforgettable grand prize.

Before we dig in to the stats, let's go back to this summer when we always get our typical stories. Whether it's adding a 3-pointer, working on ball-handling or something else, there's always something we have to write about for players coming off bad seasons. Of course, nothing tops the list quite like Muscle Watch, and Oladipo was on the short list of NBA players making waves. Here's an Instagram post from over the summer (via The Oklahoman).
Yeah, we've seen this before, but Oladipo getting into great shape certainly does pop on tape this year. Plus, it shows up on the tracking stats with Dipo ranking ninth in the NBA for miles run per game at 2.58. Plus, his average speed of 4.26 miles per hour is the fastest of the top 35 players for miles run, too. Some of Oladipo's improvement has to be chalked up to how he's #InTheBestShapeOfHisLife.
OK, stats time. Let's start with his shot charts from last year (top) and this year (bottom):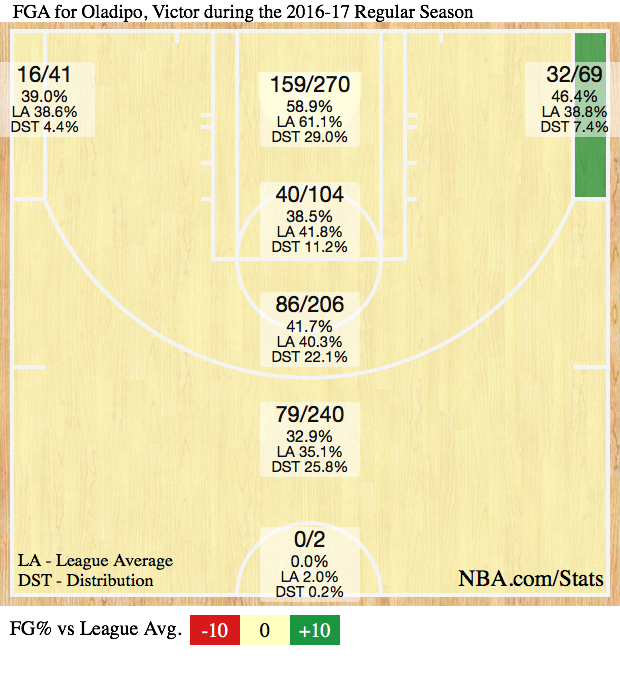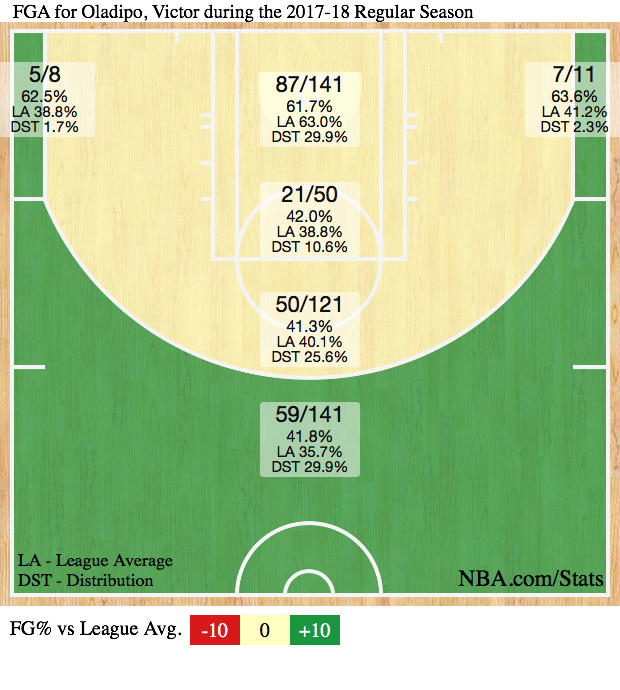 Obviously the biggest increase here is from deep with his 15th-ranked 44.4 percent from deep after he ranked just 95th in 3-point percentage last year (195 qualified last year, 130 qualify so far this year). He's been ridiculous in the corners with his 94.7 eFG% on his 19 attempts, and he's been firing away above the break with those shots accounting for 29.9 percent of his shot total at a 62.0 eFG%. Prettay, prettay, prettay good.
He's also been one of the best pull-up shooters from deep with his 45.5 percent on 3.0 attempts per game this year. That's a shade better than his 43.6 percent on catch-and-shoot trey attempts, and that's also 10 percent better than Stephen Curry's 35.1 percent on his pullup treys. Oladipo was also at just 34.0 percent on his pullup treys last year, and he was only taking 0.8 attempts per game. If you want to say something is fluky about him, this is probably where you'd start.
Besides those treys, there isn't too much difference. He's only getting a few more shots at the rim and his efficiency isn't that much better either. Plus, he's actually worse on his mid-range shots this year. It's also worth mentioning Oladipo is wide open on a higher percentage of his shots this year compared to last year, and he's also posted a 66.2 eFG% on those  — up from 57.3 eFG% last year.
Moving on, here's a look at the shot types from this year and last year. The left part will be the eFG% on the shot types and the right part is the distribution of those shots. In other words, how good he is on that shot is on the left and how often he takes it is on the right.
As you'd expect, his jumper has an eye-popping difference on efficiency with a 6.4 eFG% boost while he's also not leaning on it as much. The other big difference is how he's improved how he's taking more layups and dunks while his efficiency is similar. It's also kind of wild he's more efficient on his jumpers than his layups this year.
So now that Oladipo is the man and not just watching Russell Westbrook set the NBA record for usage rate, he is getting some different plays for him. Here's a look at his percentile for scoring efficiency on play types on the left and how frequently he's getting that play is on the right.

He's seen a massive increase in how he performs as a PNR scorer with a 21 percentile boost, and he's also seen that play 1.9 percent more often. Plus, he's been a lot better in transition and of course he's been an excellent isolation player. By the way, Westbrook is only 31st percentile on PNR scoring and is 62nd in isolation.
One other aspect of Oladipo's game that stands out is how much be dominates the game in the fourth quarter. He has a 37.2 usage rate in the fourth this season, but it's actually been his worst quarter for efficiency with a 53.7 TS%. Compare that to last year when VO only had a 20.0 usage rate in the fourth on Westbrook's OKC team. Oladipo's usage rate also goes up in every quarter — it's 52.6 in his five overtime minutes, too.
So how much of this are we going to buy? Well, we really can't expect him to be this good on 3-pointers, right? Even if we split the difference and he can still flirt with 40 percent ant not 45, he's still going to be in the upper 50s for TS% and over 2.0 makes per game. It's not like his usage rate should take a turn for the worse and again it's been trending up. His two highest usage-rate games have been in the last two. Plus, he's able to turn in at least a 27.5 in usage rate in all but one game since Nov. 1. He's also starting to get to the line more often with 23 attempts over his last two.
In the non-scoring stuff, we did see Oladipo thrive in Orlando for steals, dimes and he even had a very respectable 0.8 blocks per game in his last season with the Magic in 2015-16. He had 4.1 assists per game in 2014-15 and 3.9 in 2015-16, so his 4.0 per game is certainly sustainable. He was used as a point guard much more often in Orlando, but of course Oladipo runs the offense a bunch at shooting guard -- a lot like Devin Booker (groin) for the Suns.
All told, it's still going to be tough for Oladipo to continue to be a top-10 player, but almost all indications outside of his sterling 3-point percent say he's here to stay. His fantasy owners should sit back and enjoy the ride, and continue to dial him up in DFS in the right matchups.