We had a nice little Monday and nobody was knocked out with the Nets, Bucks and Blazers all closing the gap. Umm, what's up with the Bulls? Anyway, if you're reading this, you probably have a good feel for the rotations in the first round. So, why don't we move along?
 
Follow me on Twitter @MikeSGallagher. You can also get almost all of these stats on NBA.com/stats.
 
Editor's Note: Play one-day fantasy basketball tonight! Rotoworld's partner FanDuel is hosting a $150,000 league for Tuesday's NBA games. It's just $2 to join and first place wins $10,000. Starts tonight at 8pm ET.Enter now!
 
Kevin Love has some tearing in his shoulder and he's going to be out for the second round. If his diagnosis of "an acute anterior inferior glenohumeral dislocation with the corresponding ligament/labrum tearing and humeral head bone bruising" indicates anything, it's that he's out for the rest of the postseason. I'm no doctor, but that is the type of injury that will require surgery and close to six months away from game action.
 
We'll save the Love injury breakdown for his free agency plans for another day, but this is a huge blow for the Cavs. Additionally, J.R Smith is going to be out for the first two games, so the Cavs are going to be missing 66 minutes and 29 points per game from their rotation. What do they do now? Let's start with how they handled their rotation in the second half on Sunday: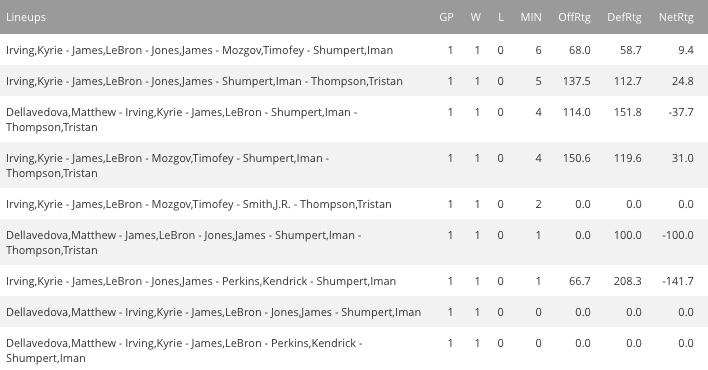 The biggest thing to take note of here is how much the Cavs used LeBron James at the four. On the offensive side of things, it makes all the sense in the world. Kevin Love has basically just become a guy out there to space the floor. The Cavs offense has pretty much turned into Kyrie Irving and LeBron making the plays through pick-and-roll, isolation and spot-ups from penetration. In fact, 79.4 percent of Love's field goals have come via an assist in the regular season. Also, only 38.4 percent of his shots have come from inside the paint, too. He's not your typical power forward. As for defensively, c'mon. LeBron can guard fours, or anyone really.
 
So that explains why the Cavs are able to go with Bron at the four. It's pretty much going to be a combination of four guys getting the minutes. Let's just go through it one by one:
 
Tristan Thompson - As shown above, Thompson picked up a lot of playing time at the five, but he did start the second half at power forward, too. He's not a big offensive weapon and his job is usually crashing the offensive glass. In fact, he only has a 10.8 usage rate in the postseason, which is Reggie Evans territory. What's more, he has a higher offensive rebounding percentage (17.6) than his defensive rebound percentage (14.6) in the playoffs. He. Has. One. Job. OK, maybe not. That's still crazy, though.
 
One more thing worth noting is 25 percent of his scoring chances have come on putbacks (Synergy). That's DeAndre Jordan and Andre Drummond-like stuff. If the Cavs are going to want some boards and size, he's easily their man. Based on how they're likely going to face the Bulls, they'll certainly need the size, especially in the first two games.
 
Iman Shumpert - He's pretty much just in there for one reason: Defense.  Shumpert is one of the better lock-down guys on the wing and he's likely going to be charged with guarding Jimmy Butler when he's out there. I don't think coach David Blatt would want to put Kyrie on Butler despite how Shump is very good at stopping point guards -- he did a nice job on Isaiah Thomas.
 
Yes, the defensive numbers are good, but the offensive numbers are bad. Like, very bad. Shumpert has a tiny 8.5 usage rate in the postseason. That's worse than Tristan, but at least he has a 69.0 true shooting percentage. He's not a very good 3-point shooter and he's made 4-of-4 on midrange in the playoffs, so that efficiency is a fluke. While he will get more minutes, you can't trust someone with that usage rate. Reggie Evans was 12.9 on usage rate this season, by the way.
 
James Jones - When Love and LeBron were beefin'/whatever, Jones was taking Love's minutes down the stretch. It's pretty easy to figure out why: 77 percent of Jones shots have been catch-and-shoot treys. He's not much of a defender and he really just has one job as well. The Cavs are basically using their one weapon in the arsenal like Mega Man. Yep, I went there, fellow Nintendo kids. What's the best Mega Man? I'm going 3 or maybe 2 because of the music. But I digress.
 
Anyway, the bottom line is you really can't trust this guy in fantasy. While Tristan Thompson can get you boards, points and maybe even blocks, Jones is living and dying on his treys.
 
(Crazy stat bonus: Jones made just two field goals in the paint in 669 regular season minutes. Two!! Double bonus: Those two came in the same game against the Hornets)
 
Matthew Dellavedova - The Cavs did go two-PG for five minutes. That means Delly is looking at around 12-16 minutes or so because Kyrie is playing 40 minutes per night. His steal rate isn't high and his assist rate is also low, so there isn't a lot to like here. Bradley Beal likes his defense, but coach David Blatt doesn't like his offense.
 
J.R. Smith - He's going to play in Game 3 and we kind of have to talk about him because he should be a huge part of the offense. In the playoffs, Kevin Love had a usage rate of 23.6, so that's a lot of offensive production going by the wayside. Smith was already posting a 17.9 usage rate in the playoffs and that was mostly with Love. For a 3-point shooter with 30 minutes, anything over 16 is worth your attention. His home/road splits don't have a big difference, so he's someone most DFS owners might want to unleash in Game 3 in Chicago (or Milwaukee, I guess).
 
So as mentioned, Love's 23.6 usage is going to be spread around.  There should be some extra numbers going to Kyrie and LeBron. Kyrie is the one to benefit here and it's kind of obvious. Somewhat surprisingly, only 0.8 trey attempts per game from LeBron have come from a Kyrie pass. Conversely, 2.5 Kyrie trey attempts per game have come off a LeBron pass. Still, LeBron was already dominating anyway, so he will be a monster.
 
The Cavs and David Blatt will have some time off to figure it out, but they've always leaned on specialists. If I'm Blatt, I'd want some size to help prevent Jimmy Butler and Derrick Rose from getting inside, and the Bulls don't really go small like the Celtics did a ton. That should bode well for Tristan. Furthermore, in the last 32 Cavs games counting the playoffs, coach Blatt has played Timofey Mozgov more than 30 minutes just four times. Thompson has a better shot at 30 minutes than Tina Fey. He had more run than Mozzy in Game 4 anyway.
 
Here are a few other quick things:
Michael Carter-Williams had his best game ever thanks to shooting 10-of-15 from the field for 22 points. Here's MCW's shot chart in his best game ever, ever: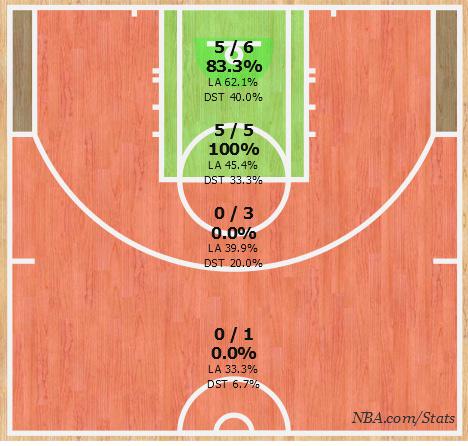 Yes, there is a trend. The sooner MCW takes it easy on the jumpers, the better he'll be. It could happen.
So how about the other point guard? Derrick Rose? I'm Ron Burgundy? OK, well here is his shot chart in the postseason: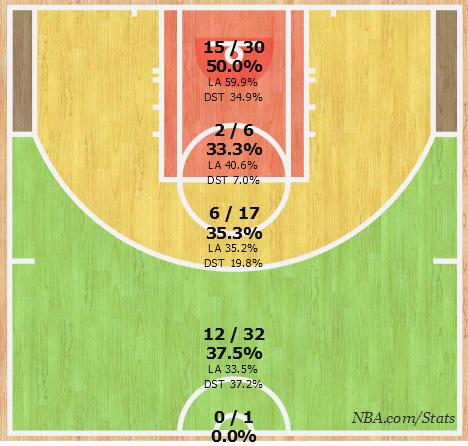 That's a stoplight special and he's actually killing it from deep, but D-Rose is not the kind of guy who should be shooting 47.2 percent in the paint. That's really bad. So what is up with it specifically from his dribbling?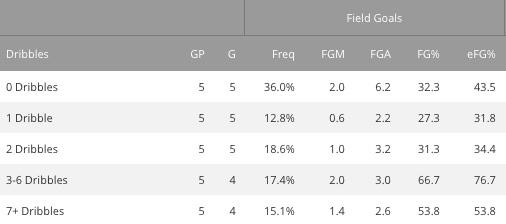 This is kind of wild. Rose is better off three-plus dribbles. Sure, the sample size is finite, but this is odd. He has just been really bad on 0-2 dribble plays. All these stats are kind of encouraging, though.
So Kawhi Leonard is really good. Like, MVP good. In the playoffs, he has a 68.3 true shooting percentage, a 25.9 usage rate and is playing 35.1 minutes per game. Here's what an MVP candidate's shot chart looks like: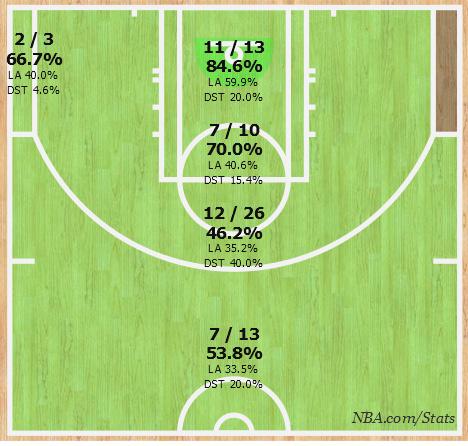 We had him higher than you thought for the draft guide and we're going to do it again. Kawhi was the No. 3 player since the break. The guy is a superstar and once again the postseason tells the story. It's also really cool how Jimmy Butler, Draymond Green and Kawhi are breaking out on top of their breakouts. Is this the plot for Inception 2?
 
Kawhi is so, so, SO good. He's first in postseason PER (image via ESPN) and also a look at how he does based on defenders on him in the postseason:



 
Kawhi likes your "defense" right now. He's one of the best players in the NBA and this was just his first season being unleashed.