Games Played Week 23


4 Games: ATL, BOS, BRK, CHA, CHI, DAL, DEN, DET, GSW, HOU, IND, LAC, LAL, MEM, MIA, MIL, MIN, NOP, NYK, PHI, SAC, SAS, TOR, WAS


3 Games: CLE, OKC, ORL, PHX, POR, UTA
When most games are coming to a close, there is more strategy involved. Basketball teams foul late to get the ball back sooner. Baseball teams are more apt to get a pinch runner late in a close game. Poker players have to throw out things like pot odds in heads up. If you're playing RISK, you usually don't want to get Asia until late — getting Australia early is huge, of course. Late-game strategy is also definitely true in fantasy.
 
If you're in head-to-head or you're behind on your Roto games played, the name of the game is to get as many quality games as you can. If you haven't given much thought to how you can get extra games, I'm here to turn your lineup into a whale for total games. Hopefully, this intro will be your new harpoon.

This is semifinal week for a lot of owners and it's one of the most level playing fields of the season. There are only six teams with three games this week: Cavaliers, Knicks, Thunder, Suns, Blazers and Jazz. That means 24 teams — or 75 percent of the league — are going to play four games. Owners in weekly leagues really should take a look at what kind of total games their opponents have. Those of you who picked up Jarrett Jack might want to go with someone else with four games.
 
As for daily leagues, another strange factor is how the schedule breaks down per night: Monday has 10 games, Tuesday has three games, Wednesday has 13 games (!), Thursday has two games, Friday has 14 games (!!), Saturday has six games and Sunday has nine games.
 
There are probably going guys playing games and on your bench just because there is no room in your starting lineup. One thing you're going to want to do is figure out which those guys are in advance. In other words, that guy at the end of your bench not playing in your lineup on Wednesday and Friday basically only has two games. That guy is highly disposable for this week. Who should you get instead?
 
Well, Tuesday and Thursday nights are going to have very light nights. The best of the bunch is Dallas. They are the only team to play on both Tuesday and Thursday. They also have some decent matchups with two games vs. Sacramento, one vs. Golden State and one vs. the Clippers.
 
Another interesting factor is no teams kick off the week on a back-to-back set. So the second-best teams with schedule for daily would probably be the Spurs and the Clippers. On top of their four games of the week, three of them come in the first four days. That means owners would have pickup limits for each week can cut guys after they accrue stats for Thursday, then add guys who play two of the three games on Friday, Saturday and Sunday. The bottom line is you'll have five games with just one move at the right time.
 
On top of the total games, owners just need to know what their competition is going to do. This is more for head-to-head, but it does help Roto owners too. If you know which categories are going to be extremely close, it can help you set your lineup. Basically, you should try to project where you're going to finish and adjust your lineup accordingly. If you're in a nine-category league, it's best to just find five category to dominate.
 
Editor's Note: Rotoworld's partner FanDuel is hosting a one-day $45,000 Fantasy Basketball league for Monday's games. It's $25 to join and first prize is $7,000. Starts at 7pm ET on Monday. Here's the FanDuel link.
 
Every player you'll see on here has four games this week. Here we go:
 
You can follow me on Twitter @MikeSGallagher for in-game updates for things like injuries and also plenty of stats and shot charts.
 
Points Guards
 
Ramon Sessions MLW
 
The Bucks are running out of guards. That led to Sessions logging a whopping 42.6 minutes per game with averages of 21.7 points, 4.3 boards, 5.0 assists, 0.3 steals, 0.3 blocks and 1.3 triples on 50.0 percent from the field over his previous three games. He's not really a great shooter and that 50 percent won't stick around, but Sessions did take half of his 46 shots over that span from within the restricted area.
 
He's among the leaders in drives per game and the lack of frontcourt scoring really makes him a terrific fit in the Milwaukee "offense." Razor Ramon has a lot of machismo and is a must-own player in a four-game week.
 
Jeremy Lin HOU
 
Yeah, Lin's prospective owners probably won't want to look at his line from Saturday. He was eaten alive by Chris Paul on both ends, making just 1-of-9 from the field in the loss. Lin's usage rate when he's at the point hasn't been too bad since the break at 22.5 while Pat Beverley was off the court, so he should have some shots go his way. Of course, that's small potatoes compared to James Harden's 36.6 without Beverley. He'll score in the low teens with a steal and a trey the rest of the way.
 
Devin Harris DAL
 
His minutes really went south in his last two and this is more about the schedule (read the intro). Harris could be a useful plug-and-play guy in daily leagues despite how he shot just 1-of-9 in his previous two games while playing 17.5 minutes per game. I wouldn't count on him in your run-of-the-mill weekly league.
 
Greivis Vasquez TOR
 
Kyle Lowry went down with an injury on Friday, but he's going to be fine. Although, it was kind of a wake-up call for coach Dwane Casey about Lowry's minutes. Earlier in the week, the team said they're going to keep the should-be All-Star's playing time in check. 
 
Vasquez has logged some nice minutes over his last five, averaging 14.2 points, 3.4 boards, 4.0 assists, 0.6 steals and 2.2 triples. The Raps have played GV more in two-PG lineups and he could approach minutes in the high 20s the rest of the way. He offers nice upside for well-rounded stat lines. 
 
Aaron Brooks DEN
 
The Nuggets are pretty much gutted right now. Wilson Chandler (groin) could shut it down and there have been some wild lineups used by coach Brian Shaw. Here's a look at the top 10 lineups since Wil-Chand went down:


 
As you can see, there is a heck of a lot of a Brooks-Lawson action here. Lawson played a lot of shooting guard back when Andre Miller didn't hate being on the Nuggets and Ty is an adept scorer on the wing. Also, that second lineup from the top is tiny, right? Yeah, they're also giving up a lot of points.
 
Anyway, Brooks is taking threes and dropping dimes, so he's worth a play for owners seeking to bolster those areas. As an aside, I have no idea why Randy Foye's ownership has dropped off a bit. He's a must-own guy for standard-style formats.
 
Isaiah Canaan HOU
 
We all know what kind of defense Jeremy Lin brings to the table and that's why Isaiah Canaan logged 20 minutes on Saturday. He was very busy with a shooting line of 3-of-5 from the field and 6-of-8 from the line while also pushing the tempo, which coach Kevin McHale will like. Canaan is a steals/trey guy and the Rockets' pace fits his style very well. He could be a nice plug-and-play guy in deep leagues.
 
 
Shooting Guards
 
Vince Carter DAL
 
This might surprise you, but Carter is among the top 10 for 3-pointers since the All-Star break. He's lit it up thanks to shooting 46.2 percent from deep in that span, adding averages of 14.3 points, 4.3 boards, 2.3 assists, 0.9 steals and 0.5 blocks.
 
He has a very solid usage rate of 24.3 since the break and has been used with the first string guys and also as the anchor on the second unit. Here is a look at the lineups which have Carter in them since the break: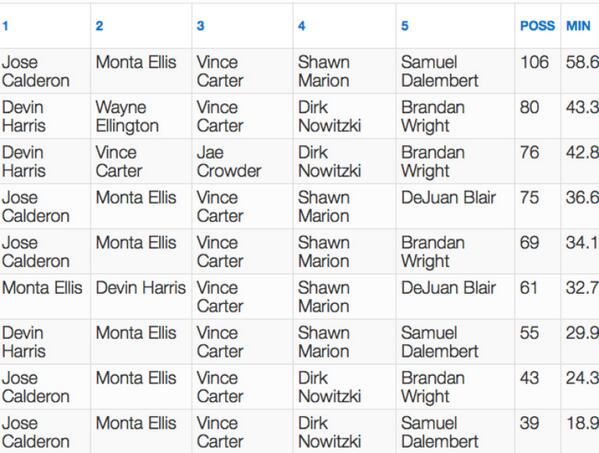 He gets a little higher usage rate with the second unit, but as you can see coach Rick Carlisle loves him in a lot of combinations. If you're in a daily style, he's a must-own player for the Tuesday and Thursday games.
 
Marco Belinelli SA
 
He caught fire over his last two, averaging 21.5 points, 3.0 assists, 1.0 steals, 1.5 blocks and 5.0 (!) triples. For the stat nerds out there, that's an effective field goal percentage of 84.6. Just for fun, here's a look at what his shot chart looks like in that span: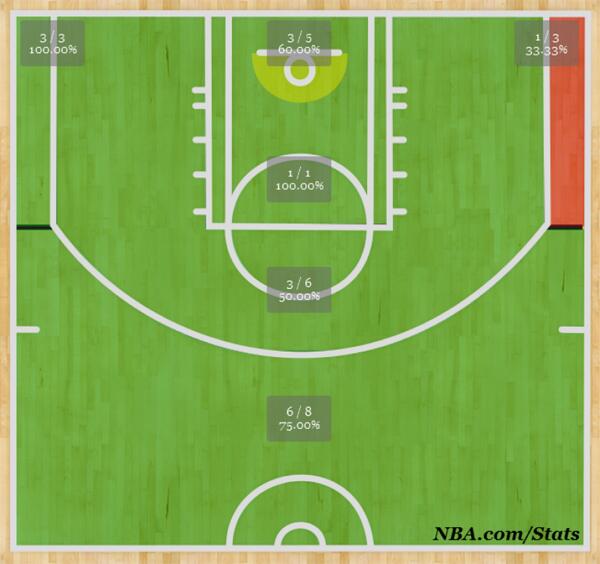 He's killed it from the left wing and is also getting great shots on the interior. Of course, the problem here is Danny Green (foot) could be back soon. His foot injury wasn't serious enough to keep him from warming up on Saturday and there is nothing structurally wrong. Secondly, Bello is not immune to getting popped either. Sure, he's 28 and is healthy, but coach Gregg Popovich has rested a healthy Green at age 25 last year and he's also rested Kawhi Leonard before.
 
James Anderson PHI
 
 It's been an up and down ride for Anderson lately, but the minutes are there. Over his last five he's averaged 12.0 points, 4.6 boards, 2.6 assists, 0.2 blocks, 1.2 steals and 2.0 triples on 40.7 percent from the field. That is probably his floor and he still turned in eighth-round value over that span. Anderson is a poor man's Jodie Meeks for his output in treys and steals. Plus, he gets four decent matchups with a couple undersized teams mixed in there.
 
Small Forwards
 
Matt Barnes LAC
 
The loss of Blake Griffin really opens up some things for the Clippers and their rotation. Interestingly, all of Barnes' minutes came at power forward following the injury and he was a huge part of the offense even though that was partially due to Glen Davis being benched -- that could happen again. In that loss to Houston, he put up 15 points on 6-of-15 shooting with 10 boards, two assists, one block, one steal and three 3-pointers.
 
He's a complete no-brainer add in even two-man formats. In fact, Barnes has accumulated third-round value in March for nine-cat leagues. I'd consider him a top-40 player with a second-round ceiling as long as Blake is out. 
 
Kent Bazemore LAK
 
The Lakers are really shorthanded and moving Bazemore into the starting unit should help quite a bit. Xavier Henry's perpetual knee issue has reared its ugly head again and Bazemore's minutes should remain solid in the starting lineup now that Wes Johnson is back on the bench. Obviously, that could change tomorrow with coach Mike D'Antoni.
 
Bazemore has put up some nice lines in his 27.8 minutes per game with the Lakers, averaging 13.6 points, 3.1 boards, 2.9 assists, 1.4 steals, 0.3 blocks and 1.6 triples. Pushing your chips to the middle on a player in D'Antoni's rotation is like dancing with the devil, but Baze is another high-upside guy.
 
Quincy Miller DEN
 
Coach Brian Shaw compared Miller to Paul George in the offseason. Hey, stop laughing! In other words, the Nuggets probably want to get a better look at him down the stretch despite how he's looked terrible in several spots all year. He's played in at least 22 minutes over his last three, but shot just 28.6 percent from the field. It's all upside since he can block, steal and hit treys. He and Evan Fournier cancel each other out a bit, but Miller gets the check for upside.
 
Al-Farouq Aminu NOP
 
I'm not the biggest ALF fan, but he could be getting some extra run. The Pelicans should get Eric Gordon (knee) back at some point and ALF still hasn't even been that great over his last five. His averages of 8.8 points, 8.2 boards, 2.6 dimes, 1.2 steals and 0.2 blocks in 34.2 minutes translated to just eighth-round value. 
 
If Gordon and Anthony Davis (ankle) are back at any point, that will almost certainly knock Aminu from even 12th-round value. You can probably do better. Why is he here? I get some questions about him on Twitter.
 
 
Power Forwards
 
Josh McRoberts CHA
 
It's a little surprising to find out how low McBobs ownership is. Also, it's sad to know he doesn't like the nickname McBobs, but that's too bad for him because it's too catchy. But I digress. Anyway, McRoberts has fifth-round value on the season thanks to his 3-pointers, assists and low turnovers. In fact, he ranks third in the NBA for assist:turnover ratio behind Chris Paul and Pablo Prigioni. The Bobcats are in pursuit of a playoff spot and Cody Zeller won't be hurting McRoberts. He's a must-start player.
 
Jeff Adrien MLW
 
The Bucks are really a mess right now and it looked like Adrien was going to be the man at power forward. Well, then Saturday happened. Adrien got figuratively popped in the mouth by the Heat, playing just 15 minutes for four points, three boards, one assist and one steal. It was a surprise to see such a dip because he put up per-36-minute averages of 16.7 points, 12.1 boards, 1.1 steals and 1.1 blocks on 53.5 percent shooting in his time with the Bucks before that stinker. 
 
The game was a blowout and coach Larry Drew changed his mind mid-game about his rotation for the umpteenth time this season. Adrien's aforementioned averages make him a player to hold even though his schedule isn't too friendly: @DET, @MIA, @CHI and TOR.
 
 
John Henson MLW
 
It would be a heck of a lot easier to be more bullish on him had he played better lately, but he should see some increase in output with Ersan Ilyasova (ankle) out for the season. Henson's blocks have dissipated and you're probably better at free throw shooting than he is. It would take a leap of faith to trust Henson, but he's definitely a high-upside player to think about for owners looking for a double-double guy with some blocks.
 
Darrell Arthur DEN
 
In case you missed the section about the Nuggets rotation above, Arthur has played some serious minutes as a frontcourt mate of Kenneth Faried. The Nuggets have been blown out a couple times in their last three, but Arthur did log 30 minutes in the one close game vs. the Spurs on Wednesday. He's also shot an eye-catching 4.0 triples per game over his last four, adding averages of 1.0 blocks, 1.8 steals and 9.3 points.
 
The Nuggets play Arthur's former team, the Grizzlies, twice this week and also get decent matchups against the Pelicans and Rockets. DA is a decent high-upside play.
 
Centers
 
Henry Sims PHI
 
Hey, he couldn't get any run with the Cavs, but not with the 76ers. Sims has really flourished over his last five games, averaging 15.6 points, 9.6 boards, 2.8 assists, 0.8 steals and 0.6 blocks on 56.9 percent from the field. He's also a solid free throw shooter and doesn't really have a down side.
 
Sims has posted third-round value in that span, which is all you need to know about how valuable he is right now.
 
Jordan Hill LAK
 
He's a no-brainer add and has been for over one week. No explanation needed and he should still see run even if Pau Gasol (illness) comes back.
 
Samuel Dalembert DAL
 
On top of the schedule, Dalembert has been great. Over his past four, he averaged 10.8 points, 9.8 boards, 3.0 blocks and 0.8 steals on 79.2 percent from the field. His minutes aren't exactly through the roof at just 25.6 per game in that span, but he's shown he's capable of producing as long as his minutes are in the mid-20s.
 
The Mavericks perimeter defense is weak with Jose Calderon on the floor and that is a big reason why Dalembert has been able to pile up the blocks. He's a terrific option this week and gets some nice matchups in the Warriors, Clippers, Lakers and Kings.
 
Omer Asik HOU
 
The Rockets are going to be without Dwight Howard (ankle) for the next week which makes Asik a serviceable play. Asik is a bit of an interesting case, though. On the surface, he looks like solid, must-start guy based on his averages of 11.0 points, 8.0 rebounds, 2.0 dimes and 2.3 blocks during the three-game stretch without Dwight earlier this month. However, his sub-par free throw shooting kept him as just a 10th-round guy in that span.
 
On the other hand, should have some close games with games in Brooklyn, in Toronto, home vs. the Thunder and home vs. the Nuggets. Asik should still be worth starting in just about all formats.
 
 
Jarvis Varnado - Speaking of rim protection, Varnado epitomized that on Saturday with his six blocks during their big win. Byron Mullens sprained his ankle and wasn't playing well anyway and Varnado really stepped it up.
 
 
One quick thing to add here is beware of your Cavs. They play on a 13-game Wednesday and a 14-game Friday, so there is very little value to having them on your roster unless they are extremely better than your other options. In other words, Jarrett Jack is a player to cut.
 
Lastly, make sure you guys join Ryan Knaus (@Knaus_RW) for Monday's chat. It should be full of useful info.